YouTuber Zoella apologises for old offensive tweets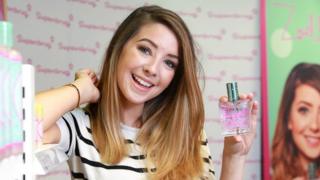 YouTuber and blogger Zoella has apologised for a number of old tweets about gay people and "chavs".
The posts, from 2009-2012, which have now been deleted, have been called out for "fat shaming" and being homophobic.
"Fat chav", "skank" and "tramp" are some of the phrases she posted on her twitter account, which now has 11 million followers.
Zoella apologised on Wednesday afternoon, adding she "would never say those things now".
The statement, posted to her Twitter account says, "I've seen a few of my old tweets from 7/8 years ago floating around (which I have now deleted) using words like "chav" "skank" and other words I wouldn't use now as part of my language.
"Obviously that is not who I am today and I'd like to think I'm a little older and wiser! I'm not perfect and I've never claimed to be, I'm only human!"
The vlogger, whose real name is Zoe Sugg, also claims a lot the statements were taken out of context as they were referring to TV shows like the X Factor and I'm a Celebrity Get Me Out of Here.
Two tweets, saying: "I find it funny when gay men spit… it's like they're trying to be a bit macho," and "How many straight men do you know, who whip out a compact mirror to do their hair before an abseil," have been criticised by Twitter users for being homophobic.
Others, saying "Who do these parents insist on beefing up their obese children, just give them water and some veg and tell them that's all they're getting," and phrases "fat chav" and "close up of a fatty eating a big mac" have also been seen as fat shaming by some fans.
Ashleigh Hamman tweeted: "Absolutely disgusting Zoella calling people fat. Especially when she claims to get upset when people would call her 'skinny' in the past. How hypocritical can you get."
Zoella has already come under fire in the last week for her 12 Days of Christmas Advent Calendar, which has been reduced by retailer Boots from £50 to £25 after being criticised for being bad value for money by customers.
Some said the emergence of these old tweets is a response to the criticism of the Advent Calendar.
But not everyone has criticised Zoella, who has her own beauty range and set of novels, with followers saying she should not be judged for things she said a long time ago.
Her work on anxiety and mental health have been mentioned as examples of how Sugg has since grown up and now has a positive persona on social media.
Follow us on Facebook, on Twitter @BBCNewsEnts, or on Instagram at bbcnewsents. If you have a story suggestion email entertainment.news@bbc.co.uk.