Barry Bennell trial: Boy 'abused on way to games'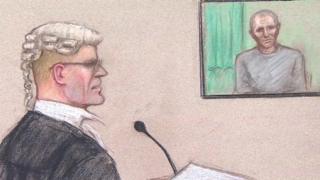 Former football coach Barry Bennell abused a boy while giving him lifts to and from training and youth matches at Manchester City, a court has heard.
A witness told Liverpool Crown Court he was abused by Mr Bennell – who acted as a youth scout for the club – from the age of nine or 10 until 14 or 15.
He said Mr Bennell raped him "about half a dozen times" during that time.
Mr Bennell, 64, now known as Richard Jones, denies 48 sex offence charges involving 11 boys.
The alleged offences took place between 1979 and 1991.
Giving evidence in court, the witness said he was a junior footballer playing for his local club team when he first met Mr Bennell, who at the time worked as a scout for Manchester City.
He told the court his parents were very busy and "trusted Mr Bennell to pick me up", adding that the ex-coach would give him a lift "on all occasions", taking him to matches and training.
He said the abuse would begin with a game called "follow me", which the Mr Bennell would initiate.
'Walked away'
"He would move his hands around your body on the outside of your clothes, tickle you, and you would have to do the same to him," he said.
The game would keep going until his hands were "inside your shirt or inside your underpants", the witness told the jury.
"I just thought it was normal, this is what you have to do," he added.
He said the abuse would take place regularly, if not every time Mr Bennell gave him a lift.
"That game was pretty much ongoing until, basically, I walked away from football," he told the court.
He told the jury he was also abused at Mr Bennell's then home in the Peak District, where boys would watch horror movies in the dark, often sharing Mr Bennell's bed.
The man said he was also abused on trips to Wales, where he described staying in a "haunted house" with other boys.
"That was his scene, he would try and scare the lads," he told the court.
'I was crying'
The alleged abuse escalated and eventually led to Mr Bennell raping him, he told the jury.
"The first time I will never forget it, " he said.
"I was just crying, the pain. It felt like it went on for hours but it was probably two or three minutes."
He told the court that none of the boys spoke to each other about the alleged abuse, adding: "We knew where we wanted to go and we just thought this was what we had to go through."
The witness said he had contacted police in 2016 after seeing former footballers speak about allegations of abuse.
Defending Mr Bennell, Eleanor Laws QC, questioned whether the witness had discussed seeking financial compensation with a solicitor or other alleged victims.
"This is not about compensation, this is about justice," he replied.
She said: "I suggest to you that you were not sexually abused at all by Barry Bennell. Do you agree or disagree?"
"Disagree", he replied.
Mr Bennell is on trial for 35 counts of indecent assault, 11 counts of buggery and two counts of attempted buggery, on boys aged between eight and 14.
He is appearing in court via video link due to illness.
Before the trial, Mr Bennell, an ex-Crewe Alexandra coach, admitted seven charges of indecent assault committed between 1981 and 1991, relating to three boys aged between 11 and 14.
The trial continues.