BBC debate: Corbyn takes part in debate without May
Jeremy Corbyn is taking part in a BBC general election debate with leading figures from six other parties.
Theresa May has opted not to appear, with Home Secretary Amber Rudd representing the Conservatives.
Mrs May said she was taking questions from voters around the country instead, after the Labour leader's surprise announcement he would be on the panel.
The Lib Dems, UKIP, SNP, Greens and Plaid Cymru are also taking part way in the 90 minute debate in Cambridge.
Mrs May has already ruled out taking part in head-to-head debates, and Labour had said that Mr Corbyn would not attend unless she was there.
But on the afternoon of the event, Mr Corbyn confirmed he would take part, and criticised the Tories for what he called "a stage-managed arms-length campaign".
"Refusing to join me in Cambridge tonight would be another sign of Theresa May's weakness, not strength," he added.
Taking questions during a campaign visit in Bath, Mrs May said Mr Corbyn "seems to be paying far more attention to how many appearances on telly he's doing, and he ought to be paying a little more attention to thinking about Brexit negotiations".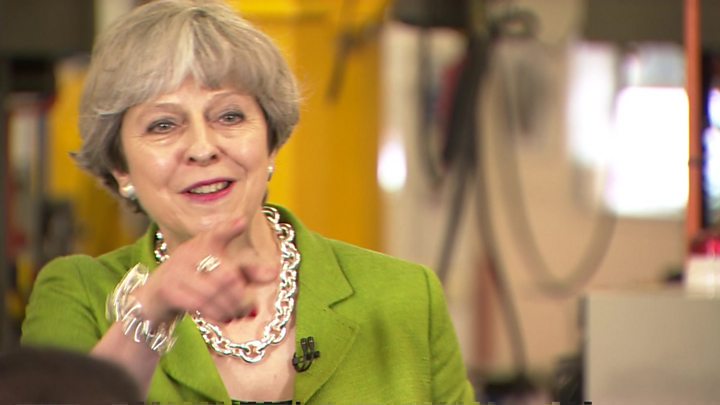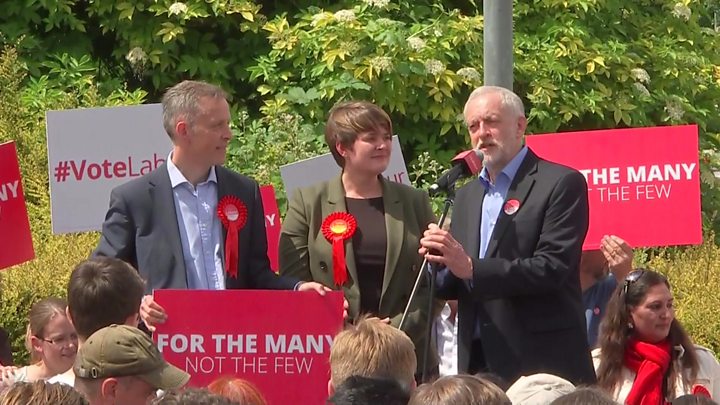 Asked whether she was frightened of taking on Mr Corbyn, she said she had been doing this every week during Prime Minister's Questions, adding that it was "so important" to be taking questions from voters.
"That's why I've been doing that up and round the country," she added.
But Lib Dem leader Tim Farron accused her of "keeping voters in the dark".
"Theresa May called this election but now won't even turn up to debate the issues," he said.
Mishal Husain is moderating the debate, which takes place in Cambridge and being shown on BBC One from 19:30-21:00 BST and livestreamed on Twitter.
As well as Mr Corbyn and Ms Rudd, the panel is: Mr Farron, UKIP's Paul Nuttall, SNP deputy leader Angus Robertson, Green co-leader Caroline Lucas and Plaid Cymru's Leanne Wood.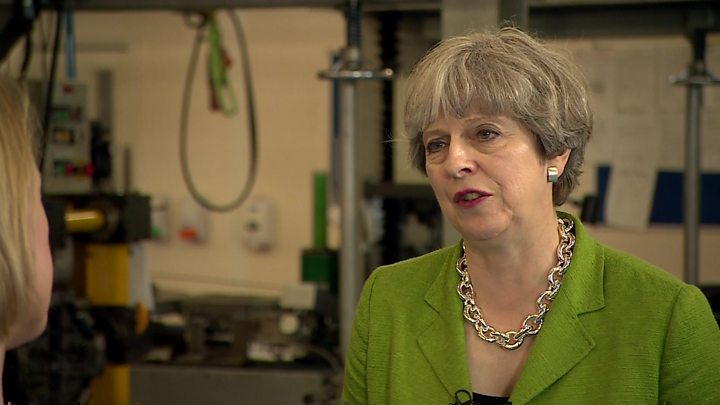 Each panellist will make an opening statement before taking questions from the audience.
The show is the latest in a series of special broadcasts ahead of the 8 June general election.
This includes two Question Time shows – on 2 June featuring Mrs May and Mr Corbyn appearing separately and on 4 June with Mr Farron and SNP leader Nicola Sturgeon.
Andrew Neil has been carrying out a series of interviews with party leaders.
Get news from the BBC in your inbox, each weekday morning