Chloe Ayling kidnap accused should be extradited, court rules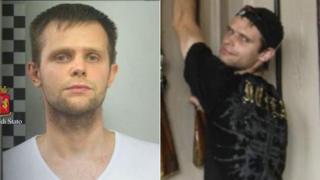 A man accused of conspiring to kidnap British model Chloe Ayling should be extradited to Italy to face trial, a judge has ruled.
Michal Konrad Herba, 36, and his brother Lukasz Herba are facing charges over the alleged abduction of 20-year-old Ms Ayling.
A hearing at Westminster Magistrates' Court ruled he should join his brother in custody in Italy.
His lawyers said they would lodge a High Court appeal on Monday.
Prosecutors had requested Mr Herba be sent to court in Milan in relation to an offence of kidnapping, arising from events between 11 and 17 July.
At the magistrates' court, Judge Paul Goldspring said: "I have decided you should be surrendered to Italy to face trial for the kidnap."
'Whole truth'
Ms Ayling claimed she was drugged and bundled into the boot of a car after being tricked into attending a fake photo shoot in the town in Italy on 11 July.
It is alleged the brothers demanded a 300,000 euros (£265,000) ransom for the model.
Speaking after the ruling Mr Herba's lawyer said his client had "repeatedly offered" to give evidence to the Italian authorities via video link.
"They have refused to hear his evidence and instead persisted with this coercive extradition request.
"He was confident that once he told the Italian authorities the whole truth behind this case they would drop their extradition request. However, they refused this offer."
At an earlier hearing, Mr Herba's lawyers said the case was a "sham", invented as a "publicity stunt".