New Year's Eve 2017: Crowds gather as celebrations begin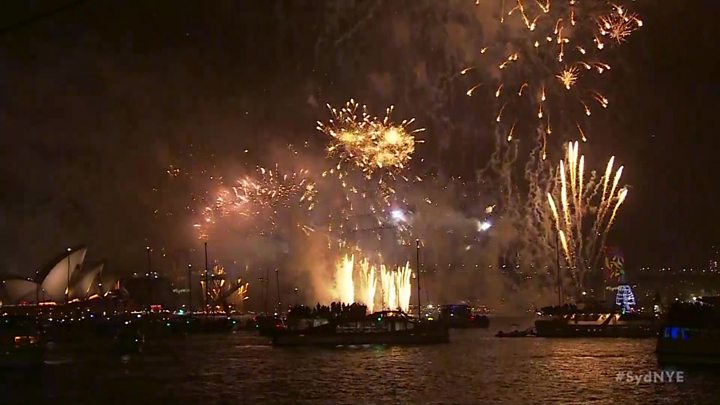 Revellers across the UK are bidding farewell to 2017 and seeing in the new year with parties, fireworks and fizz.
More than 100,000 ticketholders are expected to watch London's midnight firework show from the banks of the River Thames.
Big Ben will also chime to welcome in the new year having been turned back on part way through restoration work.
Meanwhile, Hogmanay in Edinburgh is also going ahead, despite 76mph winds hitting part of Scotland on Sunday.
Up to 150,000 people were expected in Edinburgh, despite earlier concerns that Storm Dylan might threaten events.
Rag'n'Bone Man is headlining the Concert in the Gardens, with The Human League among the acts taking to the street party stages.
A soundscaped fireworks display over the castle will entertain the audience for the first nine minutes of 2018.
In central London, the soundtrack to the midnight show will be dominated by female artists, including Aretha Franklin, Ariana Grande and Florence Welch, to mark the centenary of women getting the vote.
Some 10,000 fireworks will then light up the sky in a 12-minute display.
It follows warnings that some revellers travelling in or out of London's Waterloo could be affected by a 24-hour rail strike.
Fewer Met Police officers are working during the celebrations, despite four terror attacks in the city in the past year.
However, people have been urged to remain vigilant.
Superintendent Nick Aldworth said: "We are providing a proportionate number of officers based on the threat, number of people coming and the secure environment we've been able to build."
He said "a mix of overt and covert officers would be deployed, as well as dogs, and the use of CCTV" and spectators should report anything suspicious to an officer or event staff.