Snow could disrupt rush hour traffic, Met Office warns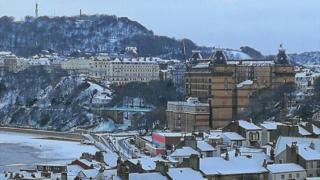 Parts of the UK could face disruption during the evening rush hour and on Friday morning, amid warnings of wintry showers and plunging temperatures.
Parts of eastern England, Kent and Scotland have already been blanketed in a layer of snow, but forecasters say another 5cm could fall in some areas.
The Met Office has issued a yellow weather warning for ice and snow over eastern England and Scotland.
It urged people to be vigilant on roads and pavements.
The warnings are in place until 10:00 GMT on Friday.
BBC weather presenter presenter Rebecca Graham said the wintery showers "will be continuing throughout this afternoon and we will see them coming further inland, into the East Midlands, the South East and Kent.
"There will be a mix of snow and sleet, chopping and changing between the two."
"We have not had the gritters out so there will be some issues with that, especially during rush hour," she added.
Earlier, a flurry of flakes in central London caused "snowwatch" to trend on social media.